North Texas stays unbeaten against Los Dos
On a gorgeous evening in southern California, North Texas SC road strong performances from Antonio Carrera and Herbert Endelay on route to their second straight road win.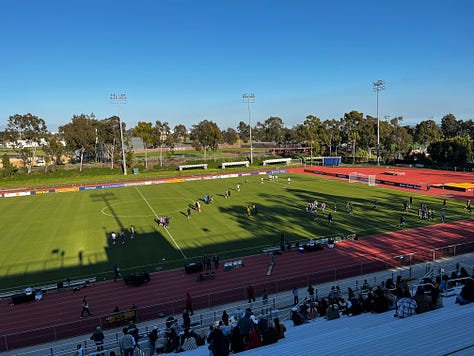 In back-to-back games, North Texas SC has kept things clean on the road, holding opponents from scoring in tight encounters.
Herbert Endelay, who also earned Man of the Match honors, was active throughout up the right side and ultimately crossed in a ball from a dangerous position that ricocheted off of LA Galaxy II player Essengue into his own net. This early in the season, you take goals anyway you can get them. Head Coach Javier Cano was proud of the improvement of the team.
"I'm so happy with the performance because we improved defensively from last game. We created the traps where we wanted to press, we had a very clear idea of what we wanted to do this week," Cano said after the game to Afterburn soccer. "Of course, we missed a lot of opportunities, especially in the first half."
Indeed, North Texas SC looked more comfortable over the course of the 90 minutes, looking to counter when Los Dos won the ball and pushed forward as well as creating attacking chances over their own through sometimes excellent passing. The team was unfortunate not to score more.
Endelay spoke to reporters and talked about his time with the team. "It has been great so far, every single member of the coaching staff and players have been great to work with. They have helped me transition into this new position easily. I have learned a lot and getting that playing time is great for young players and players who get drafted like in my case."
Herbert didn't realize he won Man of the Match til the post-game press conference, but he didn't want to distract from the work ahead.
Overall, North Texas SC look dangerous and will be a tough opponent for any team in MLS Next Pro. The hope is that more players figure out how to contribute. For example, Tomas Pondeca earned a whole half of playing time, got into great positions, but lacked a little bit of decision-making. The squad will no doubt grow to better understand each other and develop better timing the more time they are on the field.
North Texas SC welcomes fans for its home opener April 9 at 7:30 PM CST at Choctaw Stadium.
AFTERBURN SOCCER is a reader-supported publication. To receive new posts and support my work, consider becoming a free or paid subscriber.